If you want to support the work of JAAN Wildlife : Sumatra Wildlife Center
click in the image below, is doesn't matter how big or small. Together we can make a change!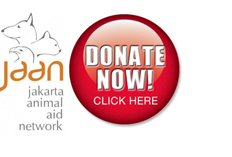 Many, many of you have been wanting to donate to us for a long time now but haven't been able to as there is no way to use your credit card. Well we have heard you and have officially signed up with fundraise.com so you can finally donate using your credit card.
Just click the link below to head straight there to donate!
https://www.fundraise.com/jakarta-animal-aid-network/help-abused-animals-in-indonesia
As always, we appreciate any donations that come through and appreciate anyone that is willing to help us, help the beautiful animals of Indonesia!
To see other ways to donate, click here.